You are here
SUMO ROBOT UNY WON THE 1ST PLACE OF NATIONAL CHAMPION HELD IN SURABAYA
Submitted by

humas-ft

on Thu, 2020-12-17 08:09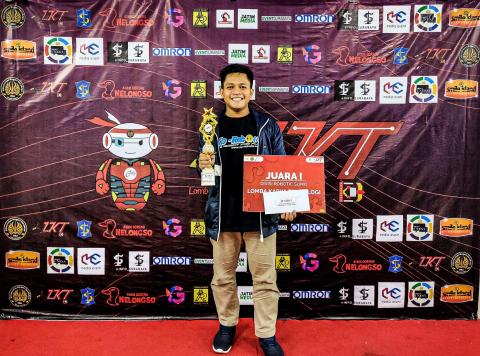 UNY_CYBER TEAM through the Sumo Robot UNY made achievements again at the national competition held at the State University of Surabaya on 26-27 October 2019. UNY_CYBER TEAM Robot Sumo UNY, led by Raden Budi Santoso (Electrical Engineering 2017, ROSEMARY Robot Team) and together with Fatur Sena Alwafi (Mechatronic Engineering Education 2018, ROSEMERY Robot TEAM) won the 1st place in the 2019 Technological Contest in the Battle Bot (Sumo Robot) category.
The 2019 Technological Contest took the theme Light Up Our Mind with Technology. This competition has several categories, such as PLC Competition, Robotic Competition, and Scientific Writing Competition. Each category is divided into a number of participant divisions, such as SD / MI, SMP / SLTP, SMA / SMK / MA, University Level and Open Division (general). UNY_CYBER TEAM joined the Robotic Competition in the Open Level (general) category of Battle Bot (Sumo Robot).
Battle Bot  ( Sumo Robot ) is a robot sumo competition that competes between two robots with the aim of bringing down opponents from the match arena in accordance with the rules of the match. The robot used by UNY_CYBER TEAM is a Sumo Robot controlled by an operator with a wireless controller.
The Robotic Competition Open Division (general) followed by many participants, starting from SD / MI, SMP/SLTP, SMA/SMK/MA, university students and general, so there are many participants in this competition category.
Raden Budi Santoso, the leader of UNY_CYBER TEAM said that it was quite tight rivalry during the competition. "Thanks to the hard work and also the prayers of the entire academic community of UNY, our team made it through the preliminary round to the final round," he said.
"Alhamdulillah, our TEAM successfully passed the previous rounds to the final round without any obstacles, because before the match day we had prepared as well as possible so that there were no obstacles during the race, so the match went smoothly according to plan" said Raden Budi Santoso.
Contact us
Bachelor of Electrical Engineering Education
Faculty of Engineering Universitas Negeri Yogyakarta
Address: Karangmalang, Yogyakarta 55281
Phone : (+62274) 586168 ext. 293, Fax : (+62274) 586734