You are here
FLYING ROBOT TEAM OF YSU WON TWO KRTI PLANE DIVISION 2019
Submitted by

humas-ft

on Thu, 2020-12-17 08:07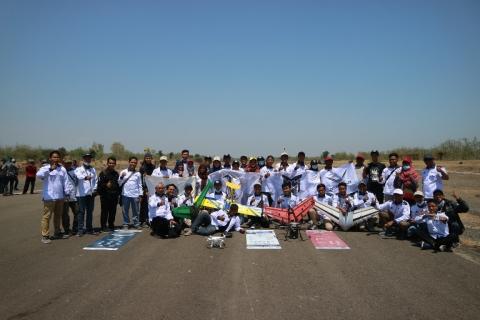 The Indonesian Flying Robot Contest is an UAV (Unmanned Aerial Vehicle) competition or an Unmanned Aircraft Competition in national level supported by the Ministry of Education and Culture. This contest has been held since 2013 with its first host, Bandung Institute of Technology (ITB). In 2014 Surabaya State Electronics Polytechnic (PENS) was appointed as the organizer located in the Raci Pasuruan Air Force Detachment. In 2015 the University of Gadjah Mada (UGM) received a mandate as the host to organize the KRTI 2015 which is located in Lanud Gading Wonosari. Starting in 2016 KRTI activities became an annual agenda of the Directorate General of Learning and Student Affairs and in 2016 they were carried out by the University of Lampung (UNILA) in Kotabaru, South Lampung. In 2017 the Ten November Institute of Technology (ITS) was entrusted to host KRTI and was again held at the Raci Pasuruan Air Force Detachment. Technocrats University of Indonesia (UTI) won the trust as an organizer KRTI 2018 and take place in Kotabaru Lampung.
In 2019, the host of KRTI was Surabaya State University (UNESA) and was held on October 1-5 at TNI AL Grati Air Field, Pasuruan, East Java with the theme "Towards Independence of Unmanned Flight Vehicle Technology". In this contest, Flying Robot Team of YSU sent four teams according to the divisions competed, namely the Racing Plane Division (RP), Fixed-Wing Division (FW), Vertical Take-off and Landing (VTOL) Division, Technology Development Division (TD ). Rejetion Team (Racing Plane Division) managed to become a Runner-Up with the fastest track record of reaching 50 seconds from start to finish. In addition, the Thunderwing team (Fixed-Wing Division) got the Best Design category after successfully carrying out the Mapping and Monitoring mission.
Fachrul Riza Alfian, the Flying Robot Team Chairman of YSU said "The achievement of the UNY Flying Robot Team is the result of the Team's hard work and support from various parties. This year's KRTI (2019) became KRTI with the best achievements ever obtained by dreamagination, in terms of knowledge, experience, and achievements. I thank to various parties who have supported us and hopefully in the next KRTI we can provide even better achievements for Yogyakarta State University"
Contact us
Bachelor of Electrical Engineering Education
Faculty of Engineering Universitas Negeri Yogyakarta
Address: Karangmalang, Yogyakarta 55281
Phone : (+62274) 586168 ext. 293, Fax : (+62274) 586734